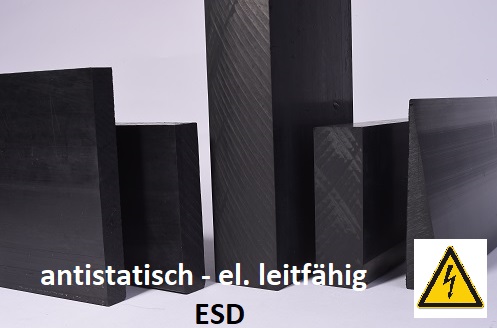 Antistatic and electric conductive plastics have contrary too normal plastics really low surface resistance...
Application consulting of technical plastics

The modern world reacts way faster to new possibilities and every company has to – if it wants to withstand the competitors – take on those and see new potential in purchase, product development and in sales early! In the last 50 years plastics overtake and caught up steel and other metals or non-metals in the spreading quantity ( Volume ). Compared to the early stages of metal there is a new development in plastics nearly on a daily basis! Would you know that there exist
plastics with a permanent service temperature from up to 350°C ?
plastics which can be magnetic, antistatic and electrically conductive ?
plastics which are biodegreadable after a set time and can be made out of 100 % rrenewable resources ?
plastics which even can withstand highly potent acids and lyes ?
plastics easily mixed with glass fibers and other filling materials to create new ones or get better technical values ?
plastics can be very tough and even withstand very abrasive situations ?
plastics aren't expensive even in small amounts ?
Mostly metalsworks companys need to catch up in the possibilites of substitution of metal with plastic parts. Certainly metal or non-metal parts can't be exchanged in every application. Even if you just substitute 10 % of your parts with plastics for the clear advantages like less weight, cheaper material and anticorrosion.
Be innovative and don't follow your competitors! You can't know every plastic so we would be pleased to help you with our expertise!
Choose your kind of consultion from our consultation offer which includes components like purchase , product development and is free for you!